Advantages of using boating simulation training in the classroom
Introduction
Numerous interactive simulators exist which can be used to provide a learning environment for students which allows them to consider, evaluate and solve real-life scenarios they might face. The use of simulators is rapidly being recognized and integrated into many educational settings. In this article we will address boating simulation and how it can be used to enhance the education process in our boating education programs, specifically focusing on the MuVIT boating simulation trainer.
The Benefits
Interactive boating simulation offers several benefits for training, especially among inexperienced boaters but also for experienced boaters who want to learn specific skills such as the use of chart plotters, Radar, and some some more advanced navigation skills:
A boating simulation removes the element of danger from the situation. For example, students can interact with numerous other vessels or piloting in severe weather thereby removing the physical hazards while building confidence and growing skills. Often we strive to explain the handling characteristics of vessels under various conditions, simulators can allow the student to experience those characteristics and attendant stressors associated with an activity and be prepared to deal with it.
Demonstrations of concepts aid retention. You can explain why someone would cross waves at 45 degrees or not get into a beam sea, but seeing the results and consequences in front of you produces a more focused memory the student can call upon.
A boating simulation can be paused whereas real life cannot. Pausing the action allows time for students to assess what is taking place and enables the instructor to ensure that the students understand what actions they should take and the reason for those actions.
A simulator allows for repeatable situations, either for one person to retry a scenario or others to attempt the same situation under the same circumstances.
Interactive simulators are far less expensive to deploy and repair than their real-life counterparts. Allowing the student to practice virtually before actually taking the helm can assist in them understanding some of the basic physics and limitations in boat handling that often results in damage to vessels.
Interactive simulation activities promote learning by meeting the following criteria:
Interactive scenarios portray an activity that is realistic. Depending upon the quality of the boating simulation software, there may be little difference between the animated environment and reality. For example, the vessels should exhibit inertia and the dynamic handling properties of vessels at various speeds. This should include low speed wallowing as well as higher-speed responsiveness.
Interactive simulators are "hands-on", involving students so they become participants and not mere listeners or observers. Students learn better from their own experiences than from having others' experiences related to them.
Interactive training devices are motivators for learning. Student involvement in the exercises is much deeper, helping foster an interest in learning more about the subject matter.
Using MuVIT in the classroom
The MuVIT platform comes with numerous preinstalled scenarios. These scenarios are predefined as to the activity to be performed, the environment, and the criteria for success. These allow for a broad array of possible boating simulation possibilities as well as the ability of students to interact with both automated vessels and potentially each other.
Free Roam
In the free roam mode, the instructor would select the locale, vessel type, starting position in the locale, and weather.
The current platform supports numerous vessels from a jet ski to open fisherman to 40 foot or larger yachts which operate in a large number of downloadable locales. Tampa Squadron finds it advantageous to stay in the Tampa Bay scenery with its numerous ATONS which allow for imparting a level of local knowledge to our students. The ATONS help the students learn how to apply basic navigation skills discussed in class.
Additionally, because any condition such as wind and current which are independently adjustable and time of day can be configured, the possible simulations become virtually unlimited.
Custom Scenarios
One of the most powerful functions available in MuVIT is the ability to build customized situations. Instructors can set the same criteria as in the free roam mode with additional operational characteristics such as waypoints, and weather that change as the scenario progresses. Then, save it with a unique name you will use to load it. Very straightforward and easy using the options bar built into the Virtual Sailor software.
It is the ability to use actual locations with corresponding charts that make the interactive training environment more real to the student and enables the boating simulator to be used in the advanced grade classes of Boat Handling, Marine Navigation, and Advanced Marine Navigation for illustrating and practicing basic navigation techniques while enhancing charting skills. Since the built-in chart plotter can be removed from the user interface by either turning it off or having it on a separate screen while maintaining the other vessel instrumentation information, the ability to perform dead reckoning navigation can become a more 'real' part of classroom exercises.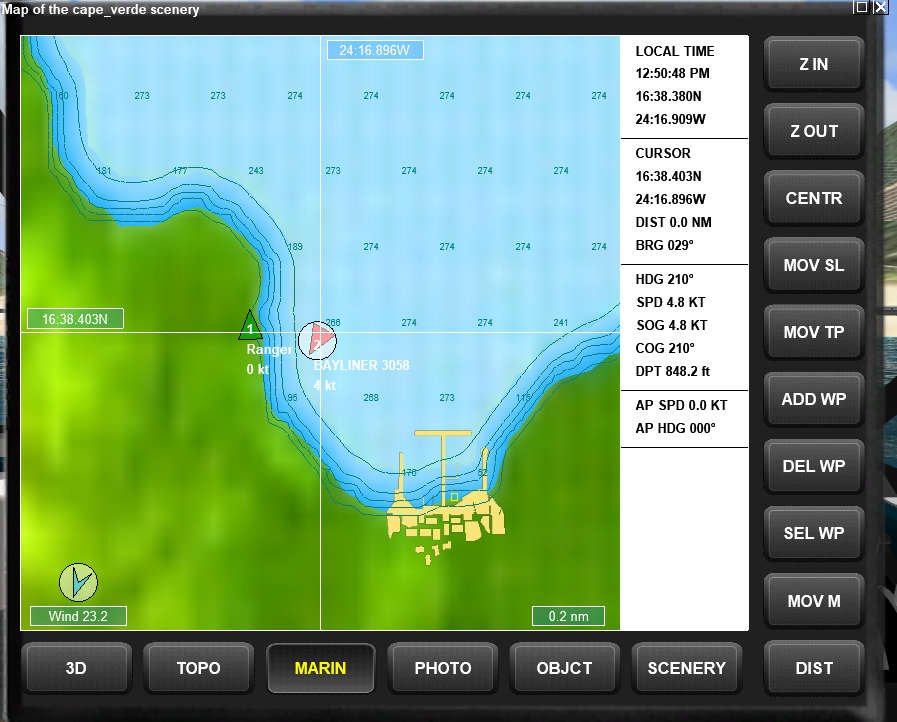 Conclusion
Like it or not simulation training is here to stay. It is used in everything from defense to banking. The main aim of the simulation is to allow learners to increase their skills in strategic thinking, decision-making, problem-solving, and analysis in a safe environment.
Students have to select the best solution for each scenario and, simulation training allows them to hone their skills and knowledge in a virtual environment, which in all ways resembles a real-life setting. The advantage is that they can practice and identify solutions that they can later incorporate into real-life situations.
Boating simulation allows teaching real world boating skills using the type of technology the student will be using and the knowledge that they not only know the theory but that they have done it previously in the simulator.